Growth-hacker marketing is not a set of best practices, but a mindset.
Successful growth hacks are the product of engineering, marketing, leadership, design, and product management.
Here are 30+ growth hacking case studies, that have deployed growth hacking strategies to achieve massive growth in their companies. Every strategy is tied to the company's context, but there's something we can learn from each one and apply to our own audiences.
I've included both online and offline growth hacks to give you some ideas 🙂
Get inspired and get ready to change your mindset!
HACK #1: HOTMAIL
Hotmail, a free email service
The Growth Hack
Hotmail launched a referral campaign. At each email footer, they
added the following phrase: "PS. I love you. Get your free e-mail at Hotmail".
Result
Hotmail first launched in July 1996. 18 months later, they had over 12 million users and were acquired by Microsoft.
HACK #2: AIRBNB
AirBnB, an online marketplace, and hospitality service, enabling
people to lease or rent short-term lodging
The Growth Hack
Airbnb understood where to find its target audience online. So, they used the existing platform Craigslist. By providing an option for homeowners to automatically post to Craigslist, Airbnb reached more potential users. Also, find out a way to reach out to property owners who post their property on craigslist and offer them to post on Airbnb, thus increasing the supply side.
Result
A lot of free traffic and exponential growth. Today, Airbnb has over 2.9 million hosts, 7 million listings, 100,000 cities with active Airbnb listings in 2021 worldwide, and over 100 million users worldwide.
HACK #3: HUBSPOT
HubSpot, an inbound marketing and sales platform that helps companies attract visitors, convert leads, and close customers.
The Growth Hack
HubSpot has extensive, but costly features. So, they use a 'lock in' strategy. The CRM product becomes 100% free. For smaller companies, they have a 90% discount.
Result
With the successful use of the 'lock-in' effect, they attracted more users. HubSpot became one of the most popular all-in-one marketing platforms on the web.
HACK #4: LISTERINE
Listerine, a company that sells mouthwash
The Growth Hack
Listerine had troubles marketing their product mouthwash to
customers. They came up with a medical condition: Halitus (Latin for 'breath') + Osis (sounds rather medical) = Halitosis. Listerine ran advertisements talking about the unmarried Edna, who remained single as she watched her friends getting married. It's not that she wasn't a great gal! It's just, she had this condition.
Result
People began to believe that they had a condition that could be treated with antiseptic, not just an embarrassing flaw that had to be covered up. So, Listerine basically created a problem for the solution they had already created.
HACK #5: PAYPAL
Paypal, an online payment solution
The Growth Hack
Invite-a-friend email campaign. People would get paid real dollars when their invited friends joined PayPal.
Result
PayPal's user base grew from 1 million in March 2000 to over 5
million in August 2000.
HACK #6: PINTEREST
Pinterest, a social media platform to share and store ideas and
content
The Growth Hack
Pinterest made their service 'invitation-only'. The exclusivity effect made potential users feel special.
Result
All new users actively started to fill the Pinterest Platform.
HACK #7: DROPBOX
Dropbox, a cloud based service for file storage
The Growth Hack
Introduced an easy-to-use referral program: invite your
friends and get extra storage space.
Result
In a 15-month period, the company went from having 100,000 users to having 4 million users.
HACK #8: STARBUCKS
Starbucks, a coffee company and coffeehouse chain
The Growth Hack
Get more people to share the brand name Starbucks. Write customer's names on cups, but misspell them on purpose.
Result
Consumers shared pictures of their cup with friends on social
media significantly more often when their names were spelled
funny.
HACK #9: CANDY CRUSH
Candy Crush, a free-to-play match-three puzzle video game
The Growth Hack
Candy Crush limited the amount of 'lives' in the game to 5 and made people wait 30 minutes for a new 'live' to be generated. When a user used 5 lives, he had the possibility to ask lives from friends via Facebook.
Result
Users were actually asking friends for lives via Facebook, and also asked them to sign up for the game. This resulted in a growing number of game users.
HACK #10: PUMA
Puma, a sports brand
The Growth Hack
During the World Cup Final of 1970, Puma asked Pele to make a last-second request to the referee to tie his shoelaces. The cameras were all on the world's greatest footballer.
Result
Everyone knew about the new shoes. Puma was publicly affiliated with the best footballer in the world at that time.
HACK #11: DE BEERS
De Beers, known for creating diamond engagement rings, wedding rings and other diamond jewelry
The Growth Hack
During the 1930s, the price of diamonds collapsed, and the gemstones were also out of fashion with the younger generation. De Beers had to find a way to increase the demand for diamonds. De Beers created the concept of an "engagement ring", associating love and marriage with diamonds. It suggested that the size of the diamond was a reflection of the size of a man's love for his woman.
Result
Men everywhere saved for months to afford the biggest and the best diamond(s). It is now so engrained into western culture, that the overwhelming majority of proposals simply can't go-ahead without a (diamond) ring.
HACK #12: SPOTIFY
Spotify, an online music streaming service
The Growth Hack
They created a Facebook integration in 2011. It allowed users to
post the tracks that they're listening to on Facebook.
Result
Spotify was placed in front of everyone on Facebook. Its user base grew exponentially.
HACK #13: CREW
Crew, a marketplace that helps you find designers and developers for your website or app
The Growth Hack
Crew launched a side-project, Unsplash. It is a website that offers free hi-resolution photos every day.
Result
With over 1 billion views, Unsplash became the #1 referral website for Crew.
HACK #14: INSTAGRAM
Instagram, a photo and video-sharing social networking service
The Growth Hack
Instagram made it possible to automatically share the edited
photos from Instagram on other social media platforms like
Facebook and Twitter.
Result
Double-digit growth of the user base, mostly via Facebook.
HACK #15: BESURED
Besured, a health insurance for Dutch students
The Growth Hack
The mission was to enter a highly saturated market, targeting students who still were insured via their parents. Offline flyering, with a sealed envelope in mailboxes of student houses with the text "Do not show this to your parents." It made students curious. The offer inside was a money-back offer when students applied for the insurance.
Result
1000's of student applications were generated by the offline campaign.
HACK #16: YOUTUBE
YouTube, a video-sharing platform
The Growth Hack
YouTube wanted to make their platform the number 1 go-to solution when it comes to video sharing. They made it very easy to post YouTube videos on any website with an easily adjustable frame, making it possible to 'embed' videos by simply pasting a code into your own website or blog.
Result
With the launch of this function, YouTube exponentially grew its reach via millions of other websites, creating an enormous awareness for its brand as a video-sharing solution.
HACK #17: WHATSAPP
WhatsApp, cross-platform centralized messaging, and voice-over-IP service
The Growth Hack
WhatsApp wanted to be the replacement of the not-so-efficient
message services offered by telecom providers. So they created a feature to invite friends for WhatsApp via SMS. There is no fun in a messaging app when your friends are not on it.
Result
WhatsApp replaced 90% of traditional mobile message services
within a year.
HACK #18: TRIPADVISOR
Tripadvisor, a hotel recommendation and review site
The Growth Hack
By adding new reviews daily, the website's' findability on search engines grew gradually. The exponential growth in Awareness started when TripAdvisor launched their badging system. Hotels and restaurants were asked to display the badges on their websites and offline in their venues.
Result
By doing so, visitors of their websites and venues were made aware that they could review the venue on Tripadvisor, resulting in more recommendations and thus in better findability for both TripAdvisor and the venues.
HACK #19: ZENDESK
Zendesk, a customer support service
The Growth Hack
They discovered via keyword research that a lot of people were
Googling "Zendesk alternative". Customers were looking directly
for the competition of Zendesk. Zendesk launched a second brand: "Zendesk Alternative". They started a funny content marketing campaign in favor of Zendesk on a specially created website.
Result
Zendesk Alternative became the #1 search result in Google. After the campaign, the website was automatically redirected to Zendesk's original website.

HACK #20: BUFFER
Buffer, designed to manage accounts in social networks
The Growth Hack
A lot & a lot of guests blogging on other websites. Within the space of around 9 months, Buffer co-founder Leo Widrich wrote around 150 guest posts.
Result
Acquired around 100,000 users within the first 9 months
HACK #21: TINDER
Tinder, online dating app
The Growth Hack
They invested in a tour of hostels and fraternities at colleges to manually recruit sign-ups from their target audience, millennials. First, they helped groups of young women install the app. By actually installing the app while in a room with these women, they got past initial install friction. Then they did the same pitch to a group of boys at a fraternity. Crucially, the app was now filled with women who all had something in common with the boys — they went to the same school.
Result
It was a move that increased their user base from less than 5,000 users to over 15,000. Tinder also threw parties in many colleges. Installing the app was the only requirement to attend those. They earned millions of users from moving one community to another with the same tactic.
HACK #22: DOS EQUIS
Dos Equis, a Mexican beer company
The Growth Hack
They started an advertising campaign in 2006 named – 'The Most Interesting Man in the World'. In this ad, we see American actor Jonathan Goldsmith going through some impressive events. So, when our mind starts considering his life as really exciting, he delivers the punch line, "I don't always drink beer. But when I do, I prefer Dos Equis."
Result
With this approach, their sale saw a leap of as high as 26% in the USA that year. The punch line went viral on the internet as well.
HACK #23: ROBINHOOD
Robinhood, a financial services company offering commission-free trades of stocks and exchange-traded funds
The Growth Hack
The launching of Robinhood was a great success thanks to its 'waiting list' approach. Before making the product available, they announced a waiting list. When someone signed up for Robinhood, he/she was added to the list and was shown social proof with the current position. But there was an option to get ahead in the serial. A referral link to invite friends to the platform.
Result
They got 1 Million+ person waiting list within a year.
HACK #24: GMAIL
Gmail, a free email service
The Growth Hack
It used the scarcity hack to catch up in the race quickly with Hotmail and Yahoo – the giants in the email market at that time. So they used an invite-only strategy. It started with around 1,000 influencers who were able to invite friends. Joining Gmail wasn't possible without an invitation. So it was like joining an exclusive club and obviously, it worked.
Result
By summer 2004 buying and selling market for Gmail invites was established, with some invitations selling for as much as $150 on eBay. Gmail's exclusive nature and well-publicized mail service feature created great interest and demand, everybody wanted to own a Gmail account – gaining millions of users in a short span of time.
HACK #25: GROUPON
Groupon, a marketplace for shopping coupons and deals
The Growth Hack
Groupon used social sharing and refer-a-friend technique but has a twist on it.
You see, it works on the principle that you need enough people to take a deal to GET the deal, so if you don't share, then everyone potentially misses out, because the deal will expire. It was a great use of FOMO and urgency in marketing.
If you do share, you get the deal, and Groupon gets new users that it can market new deals.
Result
Not only User base touched a million but also a huge rise in revenue also took place. 228% – that's how much Groupon grew their revenue in one year.
HACK #26: HARVEST SNAPS
Harvest Snaps, a healthier snacking
The Growth Hack
The revenue growth tactic that worked particularly well was creating an exclusive loyalty club for email subscribers. This kept the company in front of their subscribers and made those subscribers feel good about being part of something that wasn't open to all.
Result
The results were astounding. Within three years, Harvest Snaps had: Grown revenue from $10 million to $240 million, Increased its social media audience to 342,000, Gained 95,000 new email subscribers
HACK #27: MONZO
Monzo, a mobile-only bank
The Growth Hack
It's the "queue jumper growth hack, based on applied social psychology. We may not like those who cut in line in everyday life, but we sure like knowing we're beating the people behind us. Users could see how many people were ahead of them in the queue, and how many were behind. And they could also jump the queue by referring others, driving even more growth.
Result
This system encouraged signups and the userbase grew from 0 to 250,000 within two years.
HACK #28: RJ METRICS
RJ metrics, a hosted business intelligence platform for online businesses
The Growth Hack
They used a cupcake giveaway to get attention for their SaaS startup. For a spend of just $50, the company got plenty of social media love, first from people hoping to win a dozen cupcakes, then from people who'd won them.
Other cupcake experiments followed, and the company discovered that cupcakes were a more popular incentive than iPads.
Result
For just under two weeks and in that time they hit x1.5 their average monthly submission rate.
HACK #29: UBER
Uber, a platform that connect driver-partners and riders
The Growth Hack
In 2009, Uber realized that San Francisco was home to a large tech community, which is always on the lookout for new tools and technologies to improve their life. This encouraged Uber to sponsor tech events, offering free rides and generating awareness among the tech community. Techies enjoyed this service and shared their experience with others both in person, and across social media, and blogs.
Result
This created a viral growth engine for Uber. More and more tech-savvy people started using Uber and the internet was filled with their reviews and experiences.
HACK #30: NETFLIX
Netflix, a streaming service
The Growth Hack
Netflix started in the DVD rental business; using Internet bulletin boards and forums to target DVD users. They wanted to market to the early adopters with the message that Netflix offered titles that were hard to find. The "entertainment as utility" positioning has allowed the Internet subscription video-streaming to expand its user base.
Result
Talking directly to the buyer using this message allowed Netflix to save money on conventional marketing, and at the same time, process over 1,000 orders a day within a month of this 'soft launch'.
HACK #31: MOZ
Moz, a SaaS company that sells inbound marketing and marketing analytics software subscriptions
The Growth Hack
In the early days, Moz founder, Fishkin went on a voracious hunt to learn more about SEO, so much that he became an authority on the subject. He launched the SEOmoz blog in November 2004 to share his wealth of information pertaining to search engine optimization. In spite of all this, the company struggled to make money. Yet, Fishkin did not give up. He continued rolling out high-quality articles via the SEOmoz blog. Hard work and dedication finally paid off and the blog started bringing in a regular stream of clients.
Result
Moz did a great job without paid marketing and the whole game plan based on Content Marketing! It's exemplary Inbound Marketing. SEOmoz was ranked #334 on the Inc. 500 list in September 2010.
HACK #32: DOLLAR SHAVE CLUB
Dollar Shave Club, a lifestyle brand and e-commerce company that invents and delivers smart, affordable products to make lives easier
The Growth Hack
Dollar Shave Club got its first big boost from a 2012 YouTube video that cost $4,500 and took a single day to shoot. It featured the company's founder, Michael Dubin, walking briskly through a warehouse as he issued off-color wisecracks and encouraged men to buy his razor blades on a subscription basis for as little as $2 a month.
Result
It went supernova-viral in 72 hours. The traffic attracted by the video, which has now been watched almost 28 million times, crashed the company's server in the first hour. They received 12,000 orders that arrived in the first 48 hours.
HACK #33: VITALY UNCENSORED
Vitaly Uncensored, a strange adult jokes platform
The Growth Hack
People barely knew they existed until the Champions League final in 2019. Until Kinsey Wolanski (co-founder and girlfriend of Vitaly) caused an international stir after running on to the pitch with a swimsuit written "Vitaly Uncensored" all over.
Result
Naturally, people searched for the term, and social media platforms like Twitter flooded with reactions. There were many media mentions as well which gave free publicity. Vitaly Uncensored now had more than 32 million registered users and has raked in up to £3m in advertising as a result. Also, Kinsey Wolanski had over 300,000 Instagram followers before this stunt which has now soared to almost 1,000,000.
HACK #34: GROWFORCE
GrowForce, a growth marketing agency
The Growth Hack
They wrote eBooks that provide value to their customers and launched them as products with a solid content marketing strategy. They shot videos about their eBooks and the only way to get those eBooks was to comment under the LinkedIn post. It's full of actionable real-life examples and results, they wrote it with 100% transparency.
Result
Eventually, they got 1000s of engagements, comments, and emails. They generated over 3000 prospects.
HACK #35: AHREFS
Ahrefs, an SEO software suite that contains tools for link building, keyword research, competitor analysis, rank tracking and site audits
The Growth Hack
They hacked the world's biggest SEO conference (Brighton SEO) with a 10 cent coffee cup. By replacing nutritional data with keyword data, we generated buzz and got people talking. Imagine how much attraction they had at the conference. Everybody was instantly aware of the existence of Ahrefs; those cups worked as an ice-breaker to open new conversations and possibilities.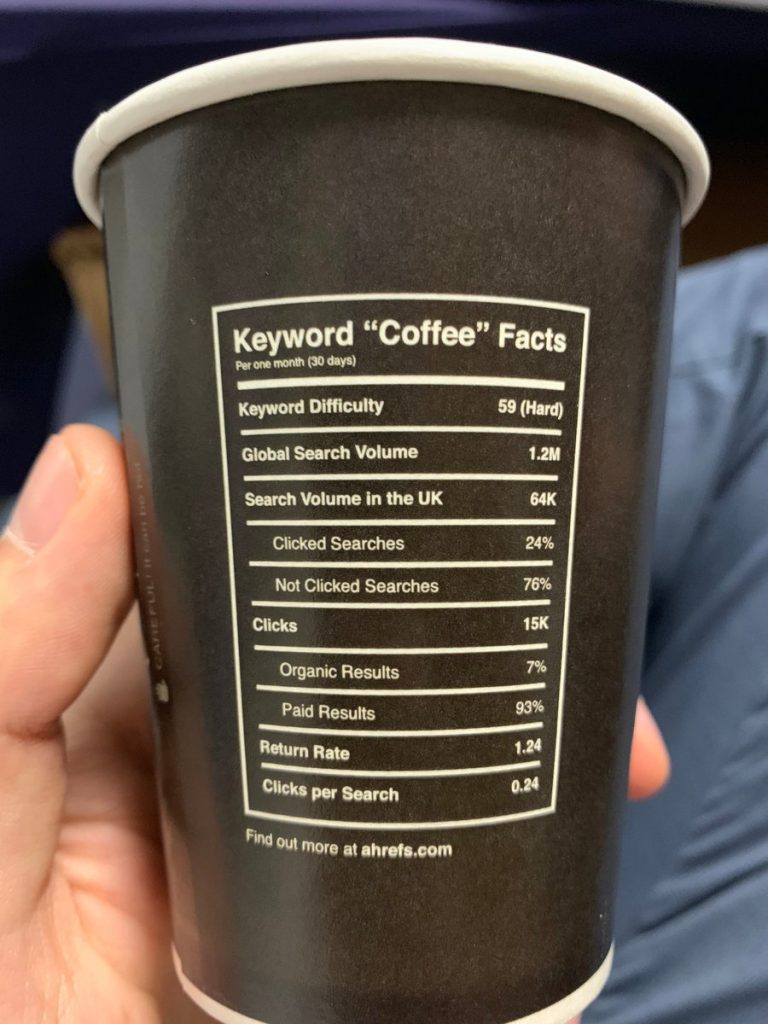 Result
Many people shared this in their social circle, both word-of-mouth marketing and social media sharing. The number of visitors increased a lot after the event.
HACK #36: CRIF DOGS
Crif Dogs, a hip place known for its innovative hot dogs
The Growth Hack
They kept a strange vintage phone booth corner in the restaurant. One day, a person walked in and used the rotary dial phone and CLICK, a secret passage door opened to a cozy bar. And the bartender treated him to a tasty cocktail and gave a card to this lucky person on the card written: "Please Don't Tell".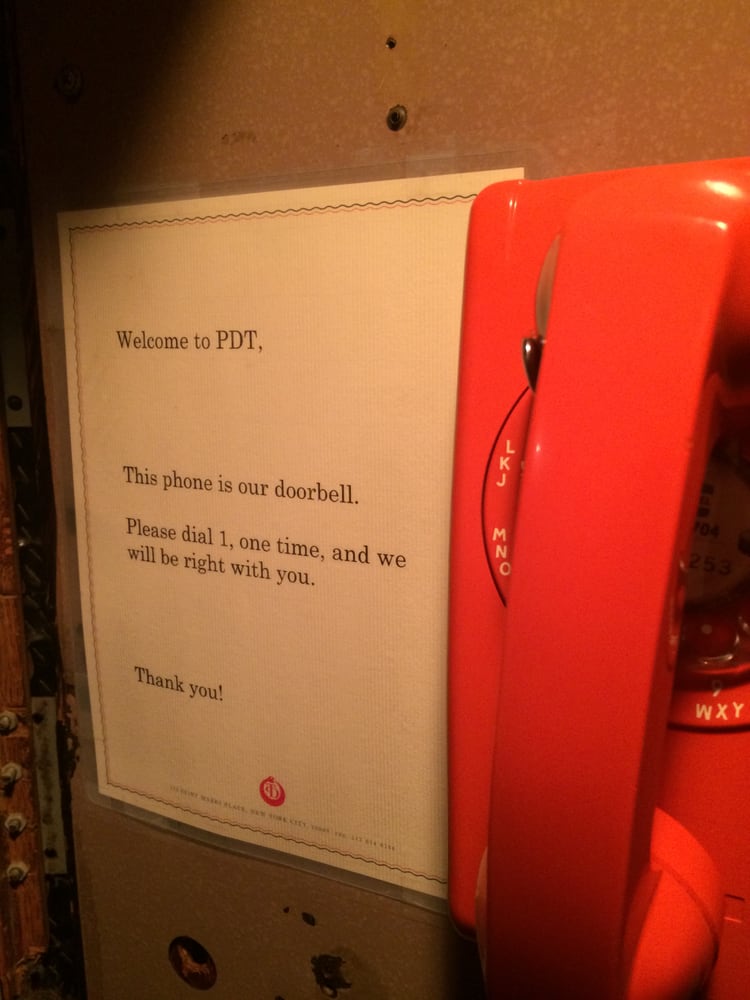 Result
People felt like they discovered the most astounding secret in the world. They then talked about this experience to all of their friends and it caused a social chain reaction.
This word-of-mouth marketing strategy transformed this place into the busiest bar in New York City. So busy it was almost impossible to make a reservation.
HACK #37: ZYNGA
Zynga, a social game developer running social video game services
The Growth Hack
You must remember the era of FarmVille, MafiaWars, or Zynga poker. These were the Facebook games that made addicts out of our friends, parents, and loved ones. How? You know the classic pricing decoy: Small $3, medium $ 6.50, and large $7.
Zynga re-engineered this by offering three choices to the user: grind, spam or pay. Well, since people didn't want to pay to continue playing games, they started to terrorize their friends by spamming them with invitations.
Result
This had a huge viral effect. It gained a lot of users through referrals.
HACK #38: CD BABY
CD Baby, an online distributor of independent music
The Growth Hack
"Your order is on the way" you probably have received an email similar to this one. But I don't think you ever received something like what Derek Sivers wrote: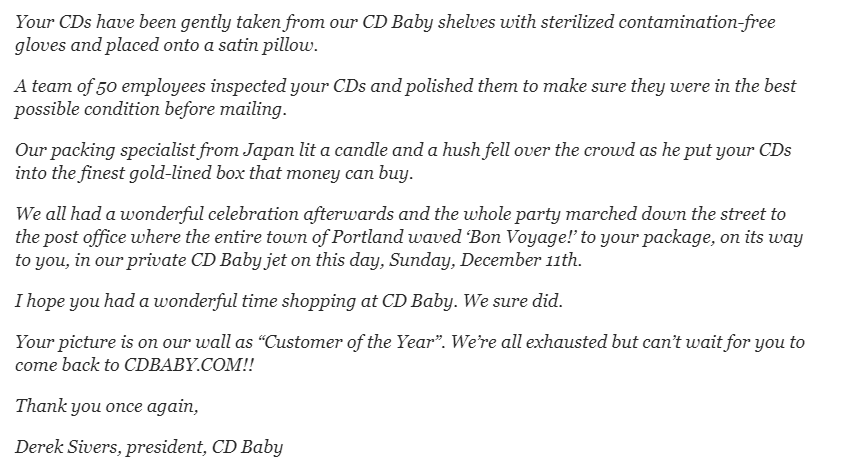 Result
He spent 20 minutes writing this masterpiece and it exploded on the internet. This content got forwarded thousands of times, CD Baby got gazillions back-links and new customers.